DR. JANA PRICE
Jana Price, PhD, is a senior human performance investigator for the National Transportation Safety Board and chief of the report development division in the NTSB Office of Highway Safety (NTSB). Dr. Price and her colleagues developed a methodology for documenting operator fatigue in transportation accidents. This work led to the establishment of the Safety Board's Training Center course on investigating fatigue factors, where she has trained hundreds of investigators in fatigue issues for nearly a decade. Dr. Price has also led human performance investigations of major highway accidents at the Board and provided support to numerous aviation, railroad, and marine accident investigations involving human fatigue.
Dr. Price first joined NTSB's Office of Research and Engineering as a researcher. Over the course of her career she has led efforts to address substance-impaired driving, child passenger safety, motorcycle safety, the efficacy of airbags in small aircraft, and weather-related plane crashes. She was the 2005 recipient of the John K. Lauber Award for technical achievement and received a group achievement award from NASA for her support of the Columbia space shuttle accident investigation. She is a senior fellow of the Partnership for Public Service Excellence in Government program. Dr. Price received her doctorate in human factors from the University of Connecticut.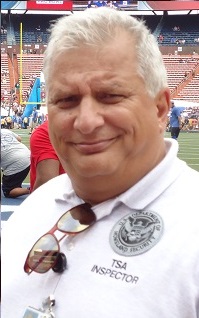 SAL VENTURELLI
Sal Venturelli is currently with the Department of Homeland Security at TSA securing our transportation assets from terrorist attack. Previously, he served 25 years with the MBTA Transit Police Department in Boston.
At TSA, Sal conducts compliance inspections of surface transportation entities (both public and private), providing outreach and best practices in transportation security, and assisting with security operations for stakeholders, in the mass transit, passenger rail, maritime, pipeline and highway critical infrastructure modes.
CARA MARCUS
Cara Marcus, Resource Center Manager, joined National RTAP in August 2017. Cara graduated from Rhode Island School of Design with a Bachelor's Degree in Graphic Design and Simmons College with a Master's Degree in Library and Information Science. She has worked for a variety of special, medical, corporate and academic libraries, including The Yankee Group, Sun Financial Group, Massachusetts Health Data Consortium and Brigham and Women's Hospital. In her previous roles, Cara has worked with stakeholders to develop an online Medical Library Association portal for instruction for library planners and managers, created metadata for the Brigham and Women's Faulkner Hospital archival collection in the Digital Commonwealth, and composed white papers for the Harvard Kennedy School of Government Healthcare Delivery Policy Program. Her published works have centered upon library management, accessibility for persons with disabilities, and verbal education.
KELLY SHAWN
Kelly Shawn has been a Senior Associate with RLS & Associates for the last five years, specializing in regulatory compliance, safety, fleet and operations management. He brings 31 years of experience in the transportation industry, most recently with the Community Transportation Association of America (CTAA), where he provided planning assistance to rural and small urban communities. Prior to 18 years with CTAA, Mr. Shawn worked in management and operations positions with Washington Metropolitan Area Transit Authority (WMATA) and intercity bus companies.
Among several planning projects, Mr. Shawn is currently working with seven states to develop their Statewide Transit Asset Management Plans and System Safety Plans.
STEPHEN FALBEL
Stephen Falbel has nearly 30 years of experience in transportation planning, with extensive experience in regional and corridor planning, policy development, service evaluation, bus service design, bus and rail data collection and analysis, ridership estimation, and statistical analysis. He worked for 11 years at the Boston Metropolitan Planning Organization, 8 years for Multisystems and Transystems, and since then has had his own firm, Steadman Hill Consulting, Inc. He is currently managing statewide public transit studies for both New Hampshire and Vermont, among other projects.
JOSEPH LOFGREN
Mr. Lofgren, a partner at Cahill Swift, LLC, is a senior auditor and audit team leader working with the FTA's Drug & Alcohol Compliance Auditing Program since 2002. As senior policy analyst, Mr. Lofgren is responsible for major drug and alcohol program innovations used throughout the country today and continues in his role as a frequent trainer, speaker, and special-assignment coordinator. He has also authored numerous FTA Drug & Alcohol Regulation Updates newsletter articles.